Bridge Street Ski Haus
Project Description
Bridge Street Ski Haus is Intrawests's premier ski rental outfitter. Located right at Gondola One in Vail CO, customers are essentially on the mountain as soon as they walk out of the shop with their gear. Aside from a prime location, Bridge Street offers top-of-the-line demo skis and snowboard equipment, a full-fledged, upscale retail shop, and impeccable service. They are also partnered with CMH – a heli-skiing service in British Columbia. In 2015, Director of Operations of Intrawest in Vail and Bridge Street General Manager Chris Cramer contacted us after seeing some of the work we had previously completed for another client – Cutthroat Anglers. We completed several projects for Bridge Street, including a website redesign, onsite SEO, and graphic design for signage and print. Though each project differed in detail, they all shared the same end goal: to translate Bridge Street's brand of upscale recreation equipment rental into all of their marketing efforts.
Online Reservation Form Integration
Bridge Street Ski Haus offers luxury and convenience – qualities not found in other Vail ski rental shops. Their concierge service includes cookies and coffee for guests to enjoy before and after hitting the slopes. Bridge Street is located at the base of Gondola One – putting skiers and snowboarders mere feet from the mountain. This sense of convenience, however, did not translate into Bridge Street's previous online reservation system. Clunky and disorganized, the online reservation form required multiple pages to be filled out, resulting in a high bounce rate. So, we overhauled the entire reservation process.
Our in-house designers and programmers turned Bridge Street's online reservation form into a streamlined, easy-to-use, simple system. Now, customers can reserve their gear using one simple form. Their information is saved to a customer relations management system (CRM). This means that once a client fills out the credentials for their ski or snowboard gear, the information gets saved for future rentals. Since we integrated the new online reservation form, Bridge Street has experienced a massive increase in online reservations, essentially going from a handful in the 2014/2015 season, to over a thousand in 2015/2016.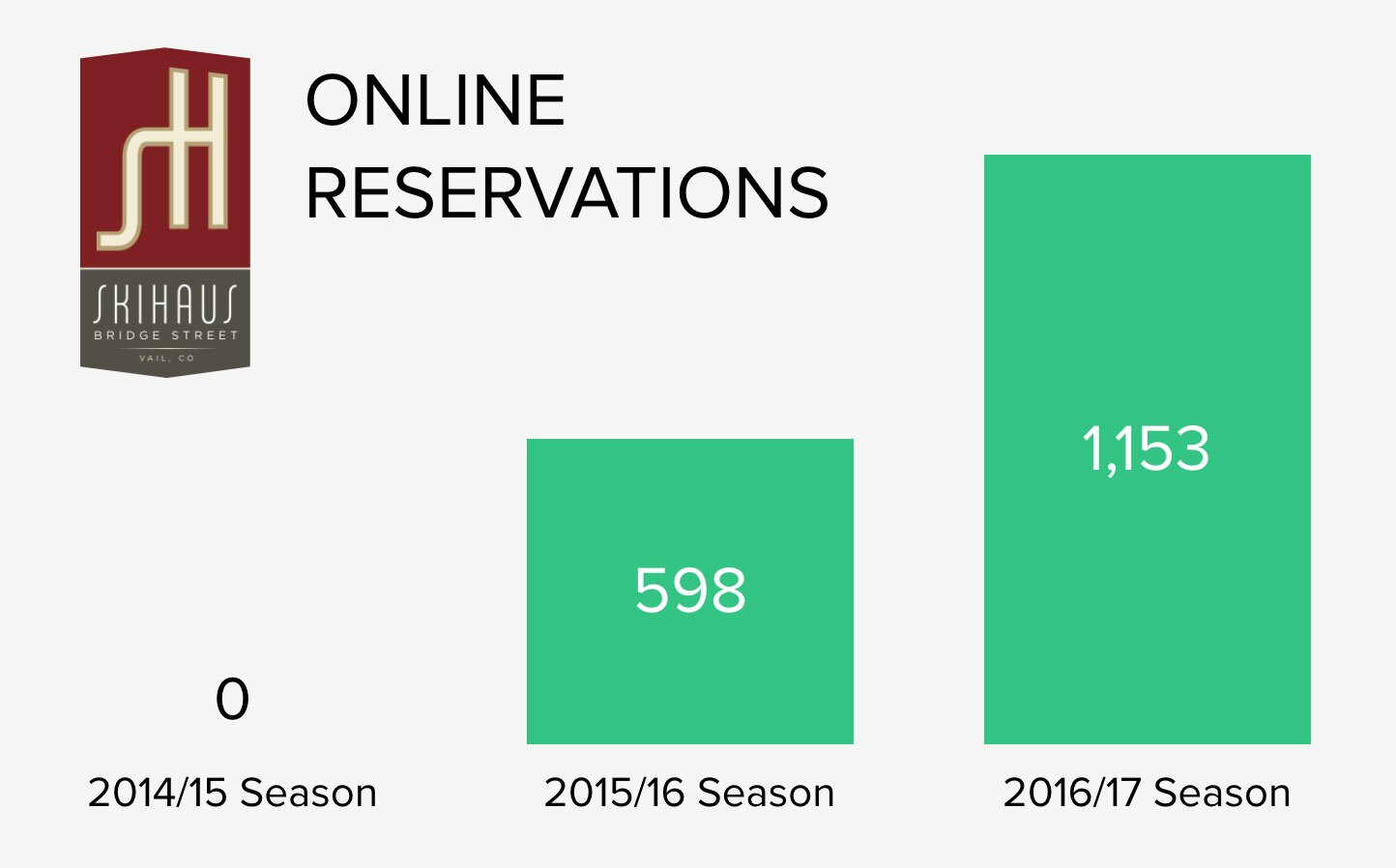 Web Design
In order to properly convey a company's brand image, it needs an online presence that represents those values. Bridge Street Ski Haus' previous website was cumbersome to use and had a high abandonment rate as a result. Bridge Street desperately needed a way to draw in customers to not only rent gear, but to teach users more about what, and who Bridge Street is. After several consultations, we were able to determine the perfect website layout and architecture for Bridge Street's new site. Our professional designers blended a modern look and feel with an easy navigation for customer experience. After just four weeks, the new site was experiencing more hits, longer session times, and most importantly, more conversions.
Onsite SEO
In order to get Bridge Street Ski Haus' new and beautiful website in the face of consumers, it needed a comprehensive SEO integration. In order to get the site performing well in search, we implemented a carefully researched set of keywords into the site – in both the content and meta data. By analyzing exactly what consumers search for in the ski rental industry, we were able to pinpoint a list of specific words and phrases to utilize within the site. As a result, Bridge Street's website is continuing to perform better in search results. We also created custom OGP data for each page on the site, for easy sharing on Facebook and social media.
Print Jobs
After giving Bridge Street Ski Haus a complete and total online makeover, Chris wanted to get word out on the street – literally. Our in-house designer created several large pricing posters to advertise Bridge Street's storage lockers, rentals, tuning and equipment prices. We also designed a promotional poster for storage options to be placed outside the shop in Vail Village to educate customers on Bridge Street's daytime and overnight storage availability. In all of our custom printing projects, we utilized the same branding template we used for the website, in order to maintain consistency (fonts, colors, layouts, etc.) throughout all of our projects.
Services Provided
Web Redesign
Online Reservations Integration
Search Engine Optimization (SEO)
Facebook/Instagram advertising
Google advertising
Email marketing
Print design
Marketing Consultation and Strategy
From the Client
We are proud to have Bridge Street Ski Haus as a client since 2015.