Search Engine Optimization (SEO) is a staple of Internet marketing. Put simply, SEO is the art and science of earning the best position possible in search results. Better results lead to better exposure and more traffic to your website. More traffic means more potential customers. It's as simple as that. Contact Imagine That today to see how we can significantly improve your website's performance in search.
What is Search Engine Optimization (SEO)?
Search engines are sophisticated programs designed to help users find specific information on the Web. A digital marketing agency can optimize the structure and information on your website, and leverage external SEO activities to improve your position in search results. You may be asking: How do search engines know what information to present to users? How do search engines determine which information is the most relevant to a user's search? Why does a search engine choose to rank one site higher than another when they both seem to have similar content? Search engine optimization helps us answer these questions and more.
When it comes to Internet marketing for better search results, you will hear people talking about page "rank" and "position." Despite misconceptions, they are not the same thing. Google's page rank is a value from 0 to 10 assigned to a web page by Google at the time a search takes place. This score is a reflection of how relevant Google feels your page is to the user's search. Position, however, refers to a web page's actual location in the search results. Generally, but not always, pages with better rank also get better position.
SEO is not trying to "trick" search engines into giving your better position. It's following the rules and doing your best to provide users with good, relevant content. To do that, you have to know the rules. Google has some 200+ factors it considers when assigning rank and position to a website. Bing considers over 1,000 factors. Some of these factors are external; many are internal and have to do with your website's content and information architecture.
The formula a search engine uses to decide how to rank and position your website is called an algorithm. Search engine algorithms are closely guarded secrets and they are always changing. When a user submits a search, Google scans its index and uses its algorithm to find websites that might offer the best content for the user's query. The results, called search engine results pages (SERPs) come back as a list of websites Google thinks best answers the user's question.
For as long as SEO has been around, there has been a cat-and-mouse game between unethical digital marketers and search engines. Black Hat SEO is the type of SEO that tries to trick search engines into giving good rank to a poor-quality or spammy website. Black Hat SEO is one of the reasons search engines are constantly changing their algorithms. Each change makes the algorithms more sophisticated than before, so digital marketers using Black Hat SEO are having an increasingly hard time tricking search engines into paying attention to their poor-quality websites.
Good SEO means your website will be placed higher in organic search results. Did you know that position #1 in search results captures about 32% of user traffic? Position #2 captures about 17% and position #3 about 11%. But that's not the only answer as to why SEO is important.
Hiring a digital marketing agency for SEO means you are doing everything you can to provide search engines and users with the best possible content on your website. It means users will be able to find what they were searching for. As with everything else in digital marketing, good SEO ties into good user experience (UX).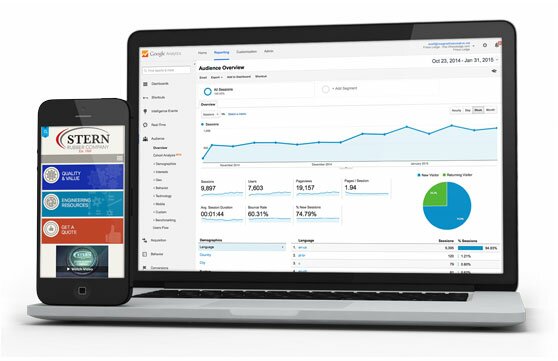 SEO and Digital Marketing
The impact of SEO on your digital marketing is obvious. A better position in search results means more traffic, which means more potential customers, leads, or signups – whatever your conversion point is. After all, that's what good SEO is all about – conversions. At the very least, it's about turning search engine users into visitors on your website. Contact us today to see how your website stacks up by requesting a free SEO analysis.