Recent Projects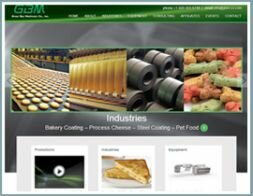 Green Bay Machinery, Inc.
Since the 1960's, Green Bay Machinery (GBM) has been the leading supplier of process cheese equipment for the food service (SOS) and retail (IWS) markets worldwide. As a pioneer in SOS and IWS markets, their experience and knowledge allowed GBM to expand into other industries such as steel, bakery and pet food. GBM's customer-focused service is at the forefront of their manufacturing process, therefore a user-friendly custom website was the most important aspect of their website design. More...
Build Your Business Online
If you're serious about growing your business...
We believe in the spirit of entrepreneurship. You've worked hard to grow your business, now take it to the next level. Imagine That has helped a lot of businesses succeed - we can help yours, too. We leverage current and emerging technologies to keep you ahead of the competition. Imagine That provides comprehensive Website Design, Digital Marketing, Creative Design and Branding services. Dream Bigger!

Our Work...